Backstage Photo Confessions
A Multi Media Exhibit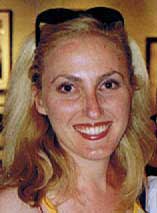 PHOTOGRAPHER
LESLIE T. SNADOWSKY
I'm primarily an on-air TV, print, and radio reporter, but I've always enjoyed taking pictures. My mother Michelle is the real photographer in the family, and it's because of her I never leave the house without a camera.
I was raised in New York City in Greenwich Village, 2 blocks away from my family's nightclub – The Bottom Line, which became one of the City's premier music venues.
At The Bottom Line, before shows, during shows, after shows, and even on dark nights, I was always Backstage.
When I moved to New Orleans to attend Tulane, I continued to get Backstage, interviewing musicians on tour, and writing about them for The Tulane Hullabaloo.
I quickly became editor of the Arcade (A&E) section of the Hullabaloo, a Jazz DJ on WTUL 91.5 FM, later a Jazz DJ on
WWOZ 90.7 FM, a VJ for TSTV, and began writing for local and national publications.
After graduation in 1993, with a BA in Art History,
I moved back to New York City and worked for Seventeen Magazine, The Village Voice, and "20/20" at ABC, before earning my Masters of Science in Journalism from Columbia University.
I made New Orleans my headquarters in 1995, while frequently relocating to different markets to pursue my on-air TV reporting career at:
KVBC-TV (NBC), Las Vegas, NV
KAMR-TV (NBC), Amarillo, TX
WCSC-TV (CBS), Charleston, SC
"Ringside: Politics With A Punch" (COX), New Orleans, LA
News 24 Houston (Time Warner), Houston, TX
American News Network, Atlanta, GA
A charter member of The Krewe of Orpheus for 12 years, thanks again to Harry Connick, Jr., and voted Most Eligible Bachelorette in New Orleans in 2001 by The March of Dimes, I also taught journalism as an adjunct instructor at Tulane.
Currently, at 33-years-old, I'm a New Orleans/ Southern stringer for many publications including Deep Magazine, the Dallas Morning News, Bloomberg and the New York Post, where for the last year I've been chronicling the bizarre murder trial and legal maneuverings of New York City real estate mogul Robert Durst. I also covered Britney Spears' first marriage for the New York Post and the Fox News Channel.

Writer's Credits_______________________________________________
New York Post • People • Bloomberg News Service
The Dallas Morning News • Seventeen • Deep Magazine
The Village Voice • The Times-Picayune • St. Charles Avenue
The Albany Times-Union • NOLALIVE.COM
New Orleans City Business • Gambit Weekly • Offbeat
Our Town • Manhattan Spirit • The Resident • Downtown Insider The Tulane Hullabaloo • Tulanian
New Orleans Women and Business

By the Way...
This exhibit wouldn't have been possible without the help and generosity of so many people including:
Angel Collazo, Nick Hamby, Leslie Lewis, Adam Sabloff, Dan Walter, Jackie Wasser, and everyone at TwiRoPa, Will Hoge and his band, Bilbo Blanchard and Darla Revelle at Lakeside Camera and Imaging, Lenny and Joan Delbert at Pan Am Communications, Stephanie Frentz at Food Art, Steve Himelfarb at Cake Café, Chip Bullock and Dawn Miller at Event Rental, David Freedman and John Cooper at WWOZ 90.7 FM, Darrin Triay at Action Press, Terry, James, and Wayne at Sir Speedy, Jay Richard at www.bachigraphics.com, and Travis and Craig Steelman at www.nolawebmasters.com…
All the entities, venues and managers who allowed me the privilege of being Backstage including The Bottom Line, the folks at Madison Square Garden, The Beacon Theatre, Nassau Coliseum, MTV, Quint Davis and George Wein at Festival Production, Steve Rehage at Rehage Entertainment, Tipitina's, Dwight Payne at House of Blues in NOLA and Las Vegas, UNO Lakefront Arena, The Gumbo Shop, The Shim Sham Lounge, Tropical Isle, Tulane University, Scott Aiges and the City of New Orleans…
Rock photographers Peter Cunningham, Bob Gruen, and Chuck Pulin, and Virginia Lohle at Star File.
The ultimate obtainer of the Backstage pass – my Dad Stanley Snadowsky…
And my Mom Michelle, the real photographer…
Thanks for the all access, and V.I.P. treatment!
I really appreciate it!